SICILY
Sicilia - Sizilien
Return To Catalogue - Sicily forgeries, part 1 - Sicily forgeries, part 2 - Italy
Note: on my website many of the pictures can not be seen! They are of course present in the cd's;
contact me if you want to purchase them: evert@klaseboer.com.
---
Sicily is an island in the south of Italy.
With thanks to Lorenzo, (check his excellent website on Italian States!) who kindly set some of his images at my disposal.
1859 Inscription 'BOLLO DELLA POSTA DI SICILIA'

  1/2 g orange
  1 g olive
  2 g blue
  5 g red
  10 g blue
  20 g grey-blue
  50 g red-brown

For the specialist: there are two plates of the 1/2 g and 5 g stamps, three of the 1 g and 2 g stamps, and only one of all the others (see Lorenzo's website for more information). Furthermore, retouching of the plates created created some varieties. Also, there is a variety of papers, gum and colour shades. There seems to exist a misprint of 1/2 g dark blue (very rare, I have never seen it, don't confuse it with a essay in light blue). These stamps are sometimes referred to as 'Bomba Head' (the nickname of the King was 'Bomba')
The stamps of Sicily were only used from 1859 to 1860. From 1861 onwards the stamps of Italy were used.
Value of the stamps

vc = very common
c  = common
*  = not so common
** = uncommon

*** = very uncommon
R   = rare
RR  = very rare
RRR = extremely rare

Value
Unused
Used
Remarks
1/2 g
RRR
RRR
Misprint: 1/2 g blue: RRR
1 g
R
R
2 g
***
***
5 g
RR
RR
Shades of red
10 g
RR
RR
20 g
RR
RR
50 g
RRR
RRR
Special cancellation (Horse Shoe):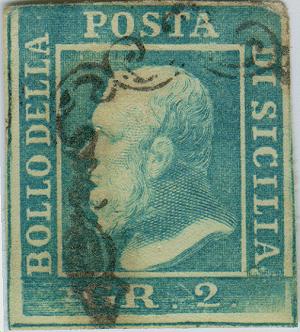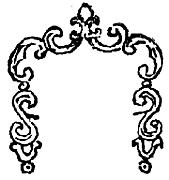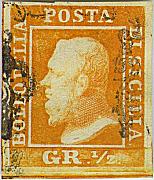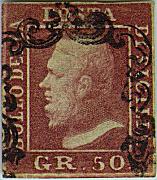 This cancellation was specially designed, in a way not to touch the face of the king. The face of the king should be in the middle of the horseshoe. However, in most of the cancellations the horseshoe touches the face slightly.
Forgery detection:
According to 'The forged stamps of all countries' by J.Dorn: the lower part of the stamp in the genuine stamps (with the value label) is attached and a line can be seen where it was attached to the upper part of the stamp.


(Bottom of a genuine stamp)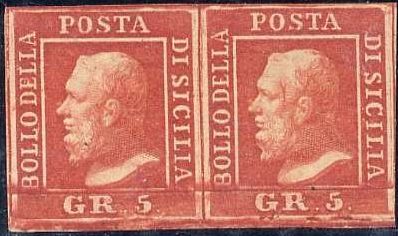 (Two genuine stamps)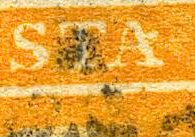 The 'S' of 'POSTA' and the dot below the 'A'
There should be a small dot in the white line just below the 'A' of 'POSTA'. The 'S' of this word has its lower part very thin in the genuine stamps (see the image above).
Album Weeds distinguishes already seven different kinds of forgeries (in the early 19th century). For examples of Sicily forgeries, click here for part 1, or here for part 2
What is this? A stamp in a similar design (embossed center), with 'F.RAGIUOLI' written at the bottom (essay?):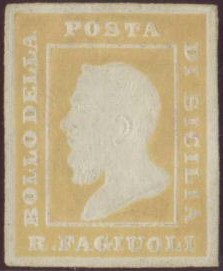 With 'R.FAGIUOLI' written at the bottom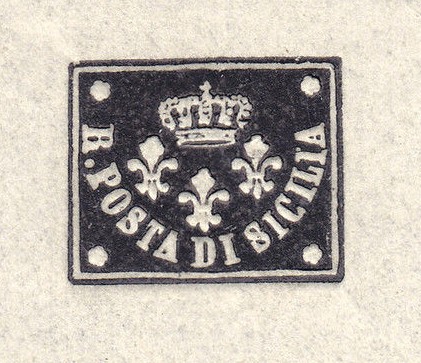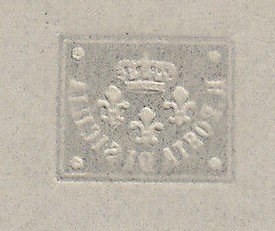 Unadopted essay for Sicily (front and backside) embossed crown and fleur-de-lis with inscription 'R.POSTA DI SICILIA'.
---
Charity labels
Some charity labels were issued after an earthquake in 1908. They have inscription 'SICILIA' and 'CALABRIA' and are triangular in shape. Apparently several countries issued these labels, since they exist in different currencies. Examples:

---
Stamps - Francobolli - Timbres-Poste - Briefmarken
Copyright by Evert Klaseboer