SAXONY Cancels
Return To Catalogue -Saxony first two issues - Saxony other issues - Other German States - Germany
Note: on my website many of the pictures can not be seen! They are of course present in the cd's;
contact me if you want to purchase them: evert@klaseboer.com.
---
When the first stamp was first issued, the stamps were supposed to be cancelled by black pen (Federstrichentwertung) in a cross-like manner in such a way that the cross would cover the newspaper wrapper as well. Next to it a towncancel was supposed to be applied.
On the 5th July 1850 this compulsary cancellation system was changed to a towncancel in black (Ortsstempel in schwarzer Farbe).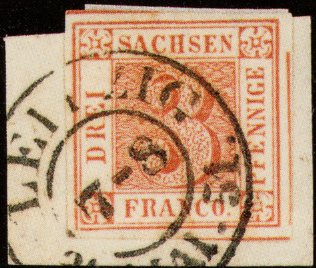 Towncancel in black colour
Other cancels are very rare on the first issue (and usually forgeries).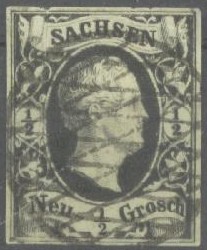 Vollgitterstempel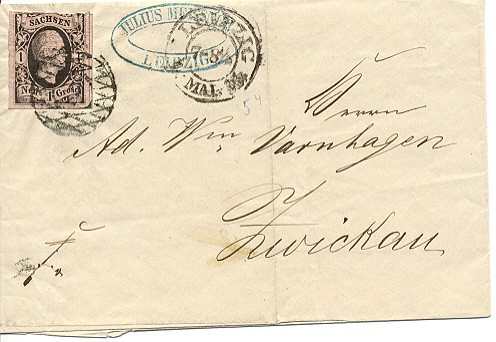 Numeral cancel with number in the center (Nummergitterstempel)
In Saxony a typical elliptical cancel was used with crossing bars; at first, there was no number inside (left image, so-called 'Vollgitterstempel', introduced on 11 march 1852), afterwards a number corresponding to each post office was added (so-called 'Nummernstempel', other images). Numbers 1 and 2 were issued in December 1852, the others from middle 1855 onwards. Source: 'Praktisches Handbuch der Freimarken des Konigreichs Sachsen' by Friedrich W.Dieck, 1921 (see also http://www.archive.org)
Some of the numbers and the corresponding towns and issue dates:
1 Dresden (December 1852, also exists in red)
2 Leipzig (December 1852, also exists in red)
3 Dresden-Neustadt (also exists in smaller sized '3' for the railway station)
4 Leipzig, railway station
5 Leipzig-Hof railway line
6 Leipzig-Dresden railway line
7 Large '7': Chemnitz-Riesa railway line; Small '7' Riesa-Zwickau railway line (from November 1858 onwards)
8 Chemnitz (three sizes of the number '8' exist)
9 Zwickau (a smaller sized '9' was issued for the railway station)
10 Annaberg
11 Altenburg
12 Freiburg in Sachsen
13 Schneeberg, from January 1861 onwards Schneeberg-Neustadtel
14 Bautzen
15 Zittau (a smaller sized '15' was issued for the railway station)
16 Borna
17 Glauchau
18 Grossenhain
19 Meissen
20 Oschatz
21 Pirna
22 Reichenbach
23 Rochlitz
24 Wurzen
25 Kotschenbroda
26 Deutsch-Einsiedel
27 Hartenstein
28 Neukirchen bei Chemnitz
29 Wildenfels
30 Adorf
31 Auerbach
32 Camenz
33 Colditz
34 Crimmitschau
35 Döbeln
36 Eibenstock
37 Frankenberg in Sachsen
38 Lichtenstein
39 Dohna
40 Glashütte
41 Lauenstein in Sachsen
42 Mülsen St.Jacob
43 Weesenstein
44 Grimma
45 Löbau in Sachsen
46 Plauen
47 Waldheim
48 Bischofswerda
49 Hainichen
50 Hohenstein (Hohenstein - Ernstthal)
51 Leisnig
52 Limbach
53 Meerana
54 Mittweida
55 Penig
56 Ronneburg
57 Rosswein
58 Werdau
59 Zschopau
60 Elsterberg
61 Harthau bei Chemnitz
62 Burgstädt
63 Dippoldiswalde
64 Eisenberg
65 Herrnhut
66 Johanngeorgenstadt
67 Kahla
68 Königsbrück
69 Königstein
70 Lengenfeld
71 Lössnitz
72 Marienberg
73 Neustadt bei Stolpen
74 Nossen
75 Oederan
76 Oelsnitz in Vogtland
77 Pegau
78 Potschappel
79 Radeberg
80 Riesa
81 Schandau
82 Schwarzenberg
83 Stollberg bei Chemnitz
84 Tharandt
85 Waldenburg
86 Altenberg
87 Ehrenfriedersdorf
88 Frohburg
89 Grossschönau
90 Grünhain
91 Kirchberg
92 Lommatzsch
93 Luppa-Dahlen (from 1st November 1865 onwards Dahlen railway station)
94 Markneukirchen
95 Mügeln bei Oschatz
96 Neusalza
97 Olbernhau
98 Pulsnitz
99 Rötha
100 Sayda
101 Schellenberg
102 Schmölln
103 Schönhayda
104 Sebnitz
105 Strhla
106 Treuen
107 Wermsdorf
108 Wilsdruff
109 Wechselburg
110 Aue (2 types)
111 Bernstadt
112 Dresden - Bodenbach
113 Ebersbach
114 Eybau
115 Falkenstein
116 Frauenstein
117 Geithain
118 Geringswalde
119 Grüna bei Chemnitz
120 Jöhstadt
121 Klingenthal
122 Lausigk
123 Lengefeld im Erzgebirge
124 Lucka bei Altenburg
125 Neugersdorf
126 Radeburg
127 Roda
128 Scheibenberg (small and large number exists)
129 Stolpen
130 Thum
131 Wolkenstein
132 Zöblitz
133 Zwenkau
134 Wehlen
135 Ostrau
136 Geyer
137 Brand bei Freiberg
138 Brandis
139 Burkhardtsdorf
140 Einsiedel bei Chemnitz
141 Lunzenau
142 Berggieshübel
143 Brambach
144 Elster
145 Gössnitz (two types)
146 Grosshartmannsdorf
147 Hartha bei Waldheim
148 Hirschfelde
149 Hohnstein bei Stolpen
150 Königswartha
151 Langenlungwitz (from January 1861 onwards Oberlungwitz)
152 Liebertwoklwitz
153 Liebstadt
154 Markranstädt
155 Meuselwitz
156 Moritzburg
157 Mühltroff
158 Oberkunnersdorf
159 Oberwiesenthal
160 Oderwitz (from 1 April 1865 onwards Nieder-Oderwitz)
161 Ostritz
162 Panschwitz
163 Pausa
164 Reichenau bei Zittau
165 Riesa (railway station)
166 Schirgiswalde
167 Schlettau
168 Schönberg bei Brambach
169 Schöneck
170 Seifhennersdorf
171 Silberstrasse (from 1 January 1858 Wiesenburg)
173 Sohland
174 Taucha
175 Weissenberg
176 Wildenthal (from 1 April 1862 onwards Crottendorf)
177 Zwönitz
178 Oelsnitz bei Lichtenstein
179 Kieritzsch
180 Neukirch am Hochwald (from February 1864 onwards Neukirch bei Bischofswerda)
181 Rothenkirchen
182 Elterlein
183 Trebsen
184 Flöha
185 Dresden - Görlitz (railway line)
186 Pomsen
187 Uhlstädt
188 Mehltheuer bei Plauen
189 Kreischa bei Dresden
190 Laubegast
191 Lockwitz
192 Loschwitz
193 Pillnitz
194 Schönfeld bei Dresden
195 Lohmen
196 Mylau
197 Netzschkau
198 Grossröhrsdorf bei Pulsnitz
199 Guttau
200 Seitschen
201 Mutzschen
202 Krögis
203 Waldkirchen bei Zschopau
204 Kohren
205 Hummelshain
206 Jägersgrün
207 Herlasgrün
208 Klosterlausnitz
209 Stauchitz
210 Buchholz bei Annaberg
211 Schmiedeberg bei Dippoldiswalde
212 Leipzig (Berliner Bahnhof)
213 Siegmar
214 Reitzenhain
215 Possendorf
216 Pommritz
217 Hainsberg - Deuben
218 Lausa (from 1 August 1866 Hermsdorf bei Dresden)
219 Reuth bei Plauen
220 Cunewalde
Later normal cancels were used:
---
Fournier forged cancels
Fournier has made forgeries of these stamps. Here some of the cancels he used on these forgeries (taken from a Fournier album):


(Reduced sizes)
---
Copyright by Evert Klaseboer