PAPAL STATES (Stato Pontificio) 1851 issue (except 50 b and 1 Sc values)
Stato Pontificio, Kirchenstaat, Etats pontificaux
Return To Catalogue - 1851 issue, forgeries - 1851 issue, 50 b and 1 Sc values - 1867 issue and miscellaneous - Italy
Note: on my website many of the pictures can not be seen! They are of course present in the cd's;
contact me if you want to purchase them: evert@klaseboer.com.
---
1851 Arms, Value in 'BAJ', imperforate

  1/2 b (Baj Mezzo) black on grey (or black on lilac)
  1 b black on green
  2 b black on green
  3 b black on brown (or black on yellow)
  4 b black on yellow (or black on brown)
  5 b black on rosa
  6 b black on grey
  7 b black on blue
  8 b black
These stamps were printed in sheets of 100 (in four panes of 25). The values 1/2 b, 1 b, 3 b, 4 b and 8 b have dividing lines between the individual stamps.
Value of the stamps

vc = very common
c  = common
*  = not so common
** = uncommon

*** = very uncommon
R   = rare
RR  = very rare
RRR = extremely rare

Value
Unused
Used
Remarks
1/2 b
***
***
Tete-beche pairs exist: RRR
1 b
***
**
2 b
**
*
3 b
***
***
4 b
R
***
5 b
***
**
6 b
R
***
7 b
RR
R
8 b
R
***
Some stamps were printed front AND backside, an example: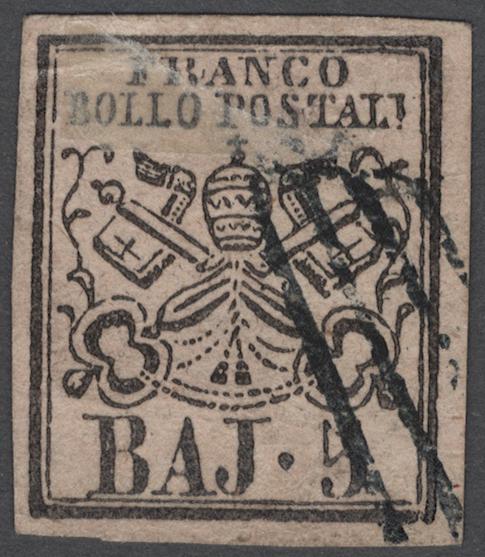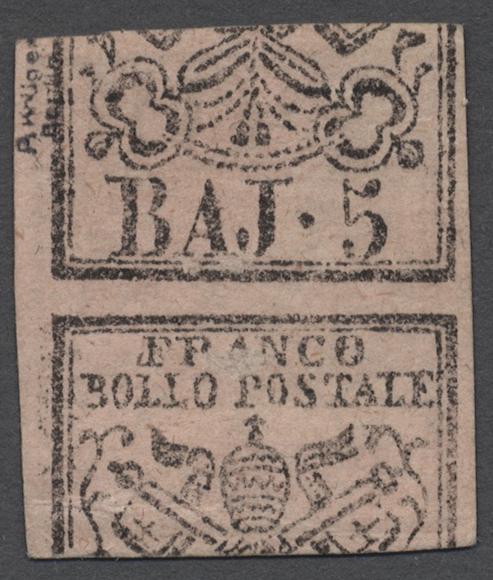 Certified genuine stamp with impression on the back.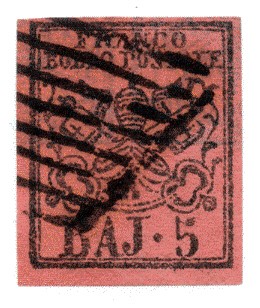 Printed in front and back. This might be a Fournier forgery (always with the paper too pinkish). In some copies (such as the one here), the 'A' has a missing bottom left part.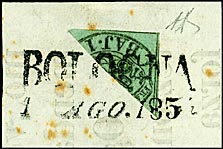 Bisected 1 b stamp with 'BOLOGNA' straight line cancel, reduced size
Typical cancels: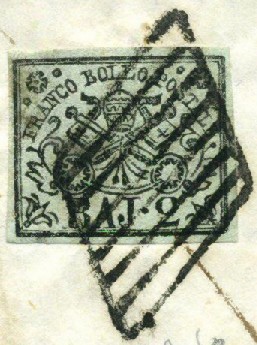 The most common cancel is the grill cancel (as shown above). It is usually struck in black, but I have also seen it in red: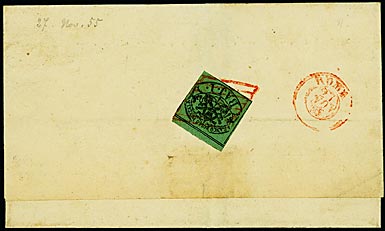 Red grill cancel of Rome, reduced size
The grill cancel is usually lozenge shaped, though rectangular grills also exist. Reversed lozenge shaped cancels also exist (lines in the opposite direction).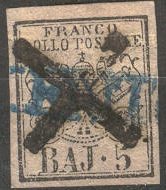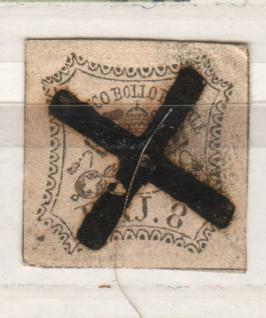 I've been told that the above cancel, a cross, was used in Ferrara. Similar cancels exist for Comacchio (or Commachio?).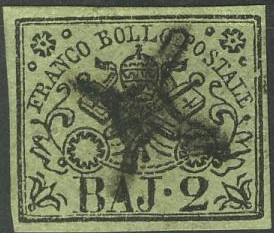 Most likely a Gomacchio 'Cross cancel'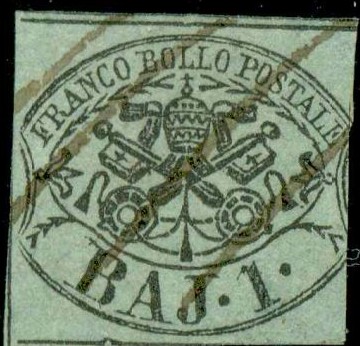 Lines cancel from Monterubbiano?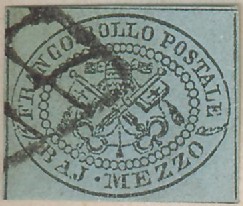 Possibly a cancel from Forolimpopoli consisting of a lozenge with 9 subdivisions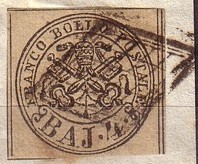 Could this be a cancel from Civita Castellana?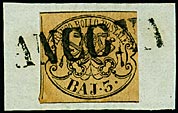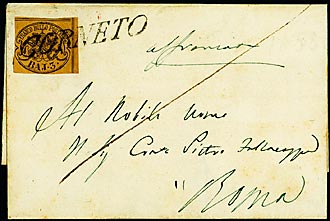 Townname 'ANCONA' and 'CORNETO' in a straight line cancel, reduced sizes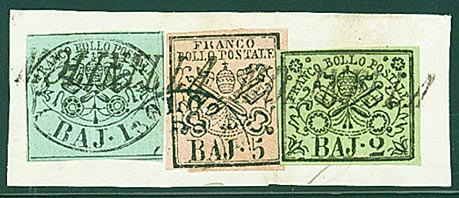 Townname 'MOLINELLA' cancel in a straight line, reduced size
Click here for the 50 b and 1 Sc values of this set.
Click here for Papal States, 1867 issue (similar issues, but values in 'Cent' and Vatican
---
Essays
I've been told that the next stamp in the value 10 b is an essay: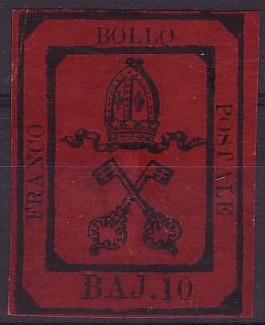 ---
Older stamp albums often had premade spaces where to put the stamps. Some of the stamps were cut to shape to fit into these albums. Examples of some mutilated stamps of the Papal States:
---
Stamps - Francobolli - Timbres-Poste - Briefmarken
Copyright by Evert Klaseboer